The 10 BEST Things to Do in Uluru [2022 Guide]
9 min read
From enjoying sunrise at Uluru to walking the base of this iconic monolith, here's our list of best things to do in Uluru! 
A trip through Australia's Northern Territory's red centre wouldn't be complete without a stop to Uluru.
Taking residence in the living cultural landscape of Uluru Kata Tjuta National park, this iconic monolith stands at around 348 metres tall with a circumference of 9.4km and is the largest sandstone monolith in the world!
Uluru is a great place to learn about traditional Anangu culture of Australia, experience the incredible views of a desert sunrise and take part in one of the many activities and experiences on offer in this culturally rich landscape in the heart of the Northern Territory.
READ MORE: See what else makes our list of the top places to visit in Australia!
Our Guide to the Best Things to Do in Uluru
While climbing Uluru was once a sought after tourist activity in Australia, due to the cultural significance of this site it was rightly discontinued in late 2019.
But don't worry, there are still so many things to do in Uluru and so many ways to enjoy this iconic monolith!
For just $38 for 3 days, you get access to the entire national park of awe inspiring sunrises, resources of the local history at the cultural centre, experience this cultural site up close with the Uluru base walk, as well as explore the often overlooked Uluru Kata Tjuda National Park and the diversity of flora and fauna in the desert refuge of Walpa Gorge.
Overall, the park boasts over 100+ activities and tours to suit everyone's ideal outback getaway, but with so much to choose from, it can be hard to know where to start!
So, here's our list of the ten best things to do in Uluru!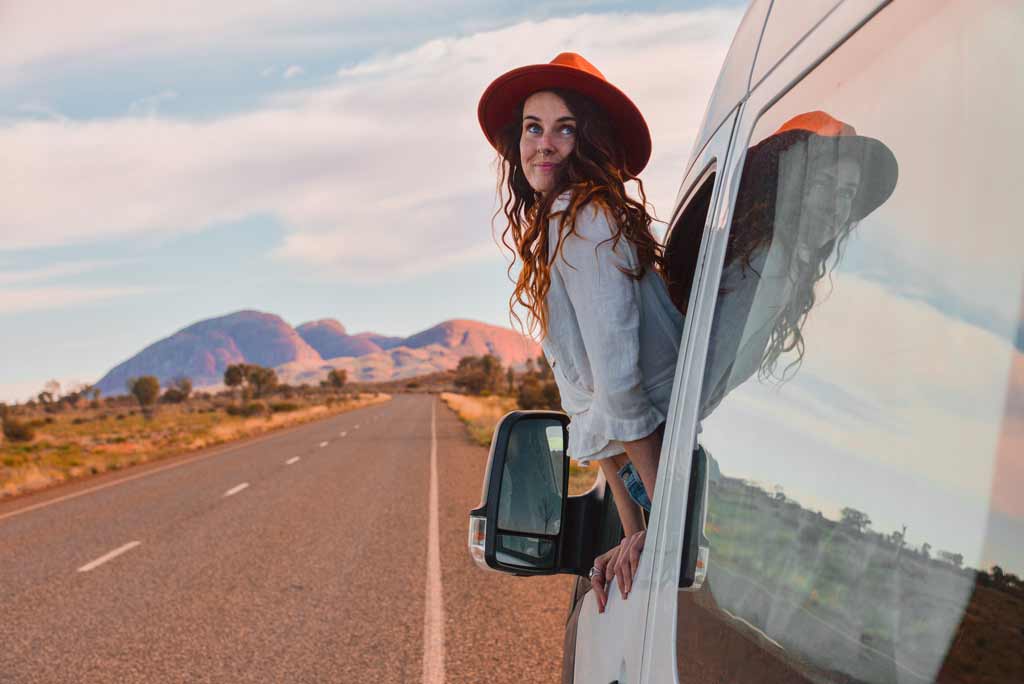 1) See Uluru at Sunrise 
The top of the list of things to do in Uluru Kata Tjuta National Park is to watch the sunrise light up the rock with those iconic red centre colours.
Be sure to make an early start into the park, and allow at least 30-40 min for the drive in and to settle in to watch this magical moment. 
Make your way to the sunrise carpark where you can either head to the viewing area or if you want to avoid the crowds, consider bringing a chair and your early morning brew!
Safe to say, there is nothing quite like sipping on your morning coffee while you sit back and enjoy the sun light up this beautiful heart of the park.
The rock is in full glow just before the sun peaks over the horizon, so this is the moment to capture a photo of those beautiful reds, but be quick or you may just miss the experience! 
If you're here for a few days and want to experience something different, try viewing Uluru from the Kata Tjuta sunrise viewing area for an extra unique experience of both Uluru and Kata Tjuta.
From this angle the rock of Uluru is in full shadow, but is reminiscent of the aboriginal flag when the sun peeps over the horizon: a whole different kind of magic.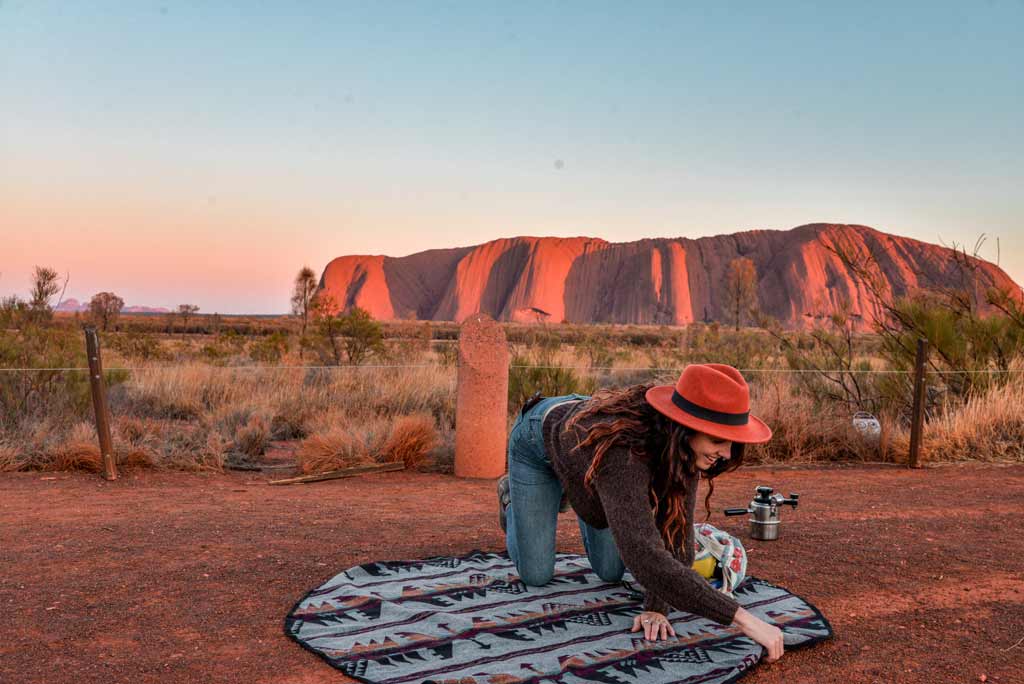 2) Hike Around the Uluru Base Walk
While the climb up Uluru has been discontinued, there is a 9.7km walking circuit that winds its way around the base of Uluru and is the perfect way to experience the cultural and natural beauty that this park has to offer.
Temperatures can rise up to 47 degrees celsius in the summer months, so if you're planning to walk the circuit, starting early in the morning right after sunrise is recommended.
Park in the Mala carpark and make sure to bring lots of water and be sun safe as you go exploring!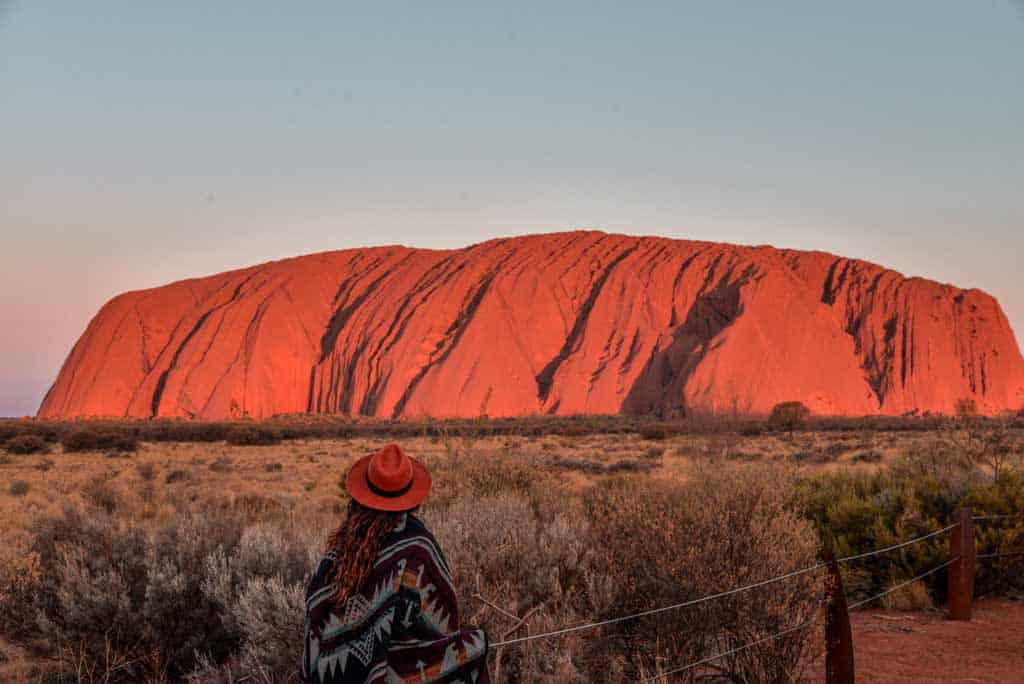 3) Segway or Cycle Around Uluru
If walking isn't your style or within your ability, this walking track is also shared by segway tours and bikes alike!
You can hire a bike from Outback Cycling located just outside the cultural centre and make your own way around the rock assisted by two wheels.
Alternatively, if you're looking to try something a little different, then you may want to look into booking a Segway tour!
Visitors can join a segway tour with a guide from $139 AUD.
Hours: Sat-Thurs 7am-12pm (closed Friday)
Address: Lasseter Highway, Uluru NT 0872
Price: $50 AUD per adult
4) Don't Miss the Mala Walk
Named after the almost extinct Rufous hare wallaby of this region, this shorter walk is absolutely one of the best things to do in Uluru for all abilities.
Winding through culturally significant women's sites, rock art and ending at Kantju Gorge, it offers so much in such a short distance (2km return).
If you're interested in learning more about the parks geology and culture, then be sure to take advantage of the free tour run by the rangers through this area.
Resident rangers will give a brief introduction of the area, the national park landmarks, share some of the creation stories and answer any additional questions you have.
Allow up to 1 hour 30 minutes for this ranger led tour. 
Hours: 8am (Oct-Apr) and 10am (May-Sept)
Address: Departs Mala Walk Carpark
Price: Free
READ MORE: Check out our guide on the best things to do in Darwin!
5) Visit the Cultural Centre
If you're unsure of things to do in Uluru for your best outback getaway, the Cultural Centre is a great place to begin your journey into Uluru history, Uluru activities, Uluru attractions, local artwork, artefacts and much more.
Here you can find videos explaining the creation stories mentioned throughout the park, as well as an introduction into Anangu culture.
This is also a great place to grab a map of the park to help with navigating the landscape!
The cultural centre also has two Aboriginal owned art galleries showcasing Anangu art and craft: everything from paintings to woodwork.
Head to the galleries to enjoy the art, watch demonstrations from local Anangu people, or maybe even choose a piece to take home to support the local communities and artists.
Hours: 10am-4pm
Address: Uluru Rd, Uluru NT 0872
Price: Free
6) Join a Dot Painting Workshop 
If the Cultural Centre has you hooked and you're a lover of aboriginal art and painting, be sure to check out Maruku Arts dot painting workshop at Ayers Rock Resort.
This workshop offers a fun introduction into western indigenous art and is a great way to learn from local artists about their art and the different symbols they use to share different Dreamtime stories.
Hours: 10:30-12:00 Oct-Mar
Address: 170 Yulara Dr, Yulara NT 0872
Price: $72/adult
READ MORE: We've published the most epic guide on the best things to do in Australia, other than Uluru. Check it out.
7) Visit Kata Tjuta
Kata Tjuta, meaning "many heads", consists of 36 giant domes spread out over 20 kilometres.
These rock formations, while often lesser known attractions for visitors and travellers alike, actually sit 200 metres taller than Uluru and held in equal cultural significance to the Anangu people.
There are two walks that you can take to explore these beautiful formations: The Valley of the Winds and Walpa Gorge.
The Valley of the Winds walk is a longer walk that allows travellers to walk in amongst the domes and see these formations up close.
This walk is challenging in parts, so allow up to 4 hours to complete the circuit.
This is also one of the areas in the national park that holds cultural significance to the local people.
Out of respect they ask that it is not photographed in order to preserve the spiritual traditions of these areas, so be aware of where you take a photo.
Walpa Gorge is a much shorter walk, but with its towering cathedral-like walls acting as a desert refuge, it is rich with local flora and fauna to explore.
If you're lucky you may even spot a wallaroo!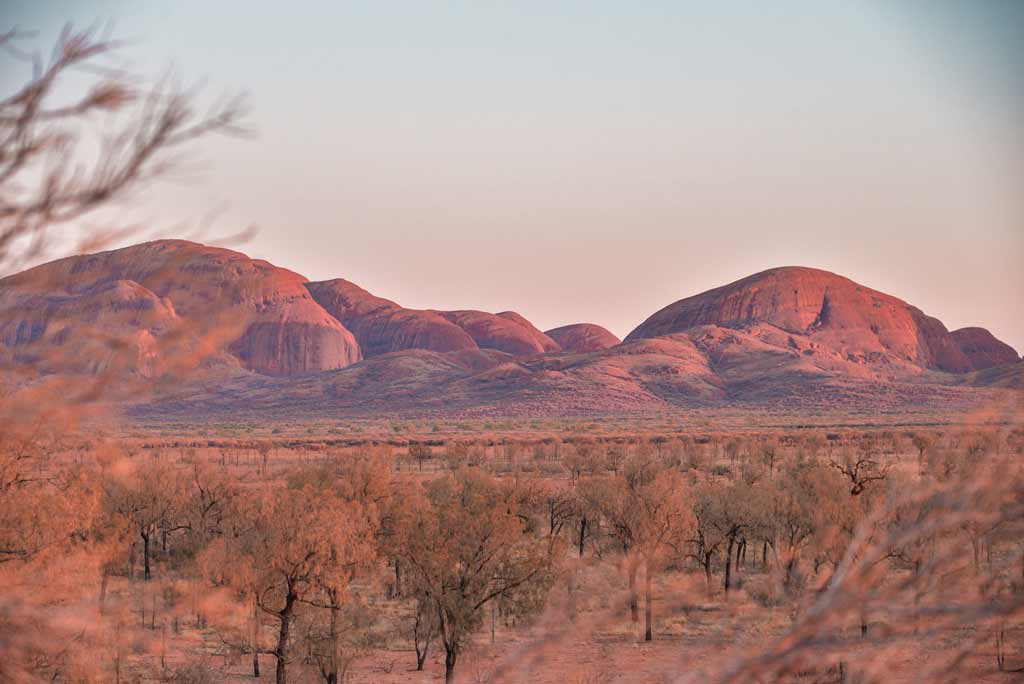 8) Be Amazed by the Field of Light Installation
This art installation, aptly named Tili Wiru Tjuta Nyakutjaku or 'looking at lots of beautiful lights' in local Anangu language, was created in 2016 by internationally renowned artist Bruce Munro.
Due to popular demand, this installation of 50,000 spheres of light has been extended indefinitely.
Spend a few hours wandering and experiencing the magnificent installation of colours of the desert, or join an exclusive sunrise walking tour to have the entire place to yourself.
Wind your way through the maze of colorful, beautiful lights as they spread out and intertwine across the desert floor.
Hours: 5-10pm
Location: Ayers Rock Resort (177 Yulara Dr, Yulara NT 0872)
Price: $44AUD per Adult
9) Enjoy Dinner 'Under the Stars'
Dining under the stars by far has to be one of the best things to in Uluru with a few different options to choose from!
Tali wiru, meaning 'beautiful dune' in local Anangu language, is one of these unforgettable outdoor dining experiences.
This open-air fine dining bush food experience features a bush tucker inspired menu that incorporates native bush ingredients integrated into a 4 course dinner served with premium Australian wine.
As you make your way through this 4 course menu, you will also have the chance to learn from a local indigenous storyteller sharing their culture, history and stories about the local people and places.
Alternatively you can enjoy a similar dune top experience with the more moderately priced Sounds of Silence three-course bush tucker inspired buffet.
While taking in the stunning views of the iconic rock, sit back and enjoy a didgeridoo performance and learn from a local guide as they give a tour of the wonders of the desert night sky and paint a map of the stars and constellations.
Hours: Depart 1 hour before sunset for approx. 4 hours 
Location: Ayers Rock Resort (177 Yulara Dr, Yulara NT 0872)
Price: $234-$380 AUD
10) Spend Some Time in Kings Canyon 
Kings Canyon is located 324km north of Uluru in Watarrka National Park and features a rim walk showcasing the iconic Australian outback landscape of the Northern Territory.
This 6km circuit walk offers spectacular views of the gorge, weaves through marvellous sandstone rock domes known as the 'lost city' and dips briefly into a picturesque oasis aptly named the Garden of Eden. 
The start of Kings Canyon is by far the most challenging part with 500 steep steps. But the rim walk mellows out as you make your way around the Kings Canyon Rim and is well worth the views!
Allow up to 3-4 hours to return and, as for all walks in outback Australia, midday temperatures can sky rocket, so be sure to get an early start and pack plenty of water! 
If you prefer to go on a day trip to this area of Watarrka National Park, then you can book the highest rated one in the area right here.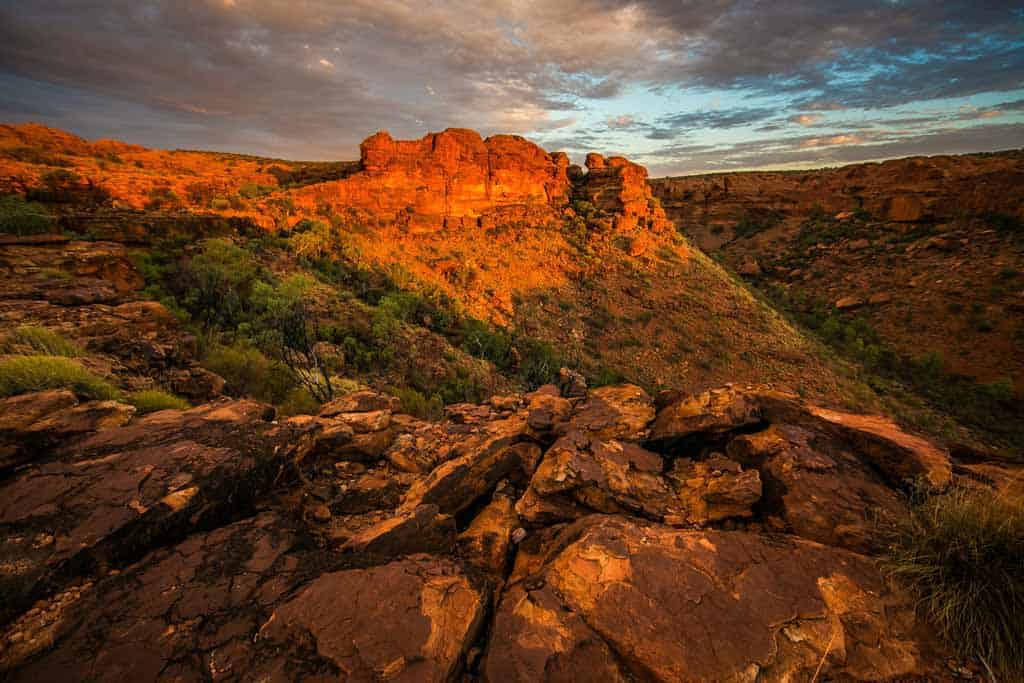 Uluru Travel Guide
Now that you know what to do in Uluru, let's explore the best places to stay and eat to help you make your plans when you visit. 
Best Accomodation – Where to Stay in Uluru 
While there is no where to stay in Uluru National park itself, there is a good variety of places in the local township Yalara. Let's explore the different options of where to stay when visiting Uluru. 
Best Budget accommodation – Outback Pioneer Hotel
This is a great budget accommodation option for singles and couples alike. Featuring dorm style rooms as well as ensuite rooms, there is a little something for everyone.
Sit back and cool off in the pool, squeeze in an air conditioned work out, or just enjoy a drink at the bar after a long day exploring Uluru.
Best Luxury Hotel in Uluru – Sails In The Desert
The cream of the crop for accommodation in Uluru is without a doubt Sails in the Desert.
If you're looking for a desert retreat then be sure to check out this hotel for your Uluru Adventure. They offer free transport to and from Ayers Rock Airport and an on-site restaurant with amazing food.
They also offer packed lunches and have cozy rooms with air conditioning.
Best Restaurants in Uluru 
While the selection of restaurants and food outlets is small in this region, there is still a diverse range for all budget requirements!
Budget 
Kulata Academy Cafe is a perfect spot to grab a quick bite to eat in town before heading off on a tour, or a snack once you're back! Choose from their range of toasties, muffins, and other sweet treats as well as their hot drinks menu.
Mid Range 
Ilkari Restaurant offers a diverse menu of contemporary Australian cuisine for breakfast lunch and dinner. Meals range from $20-60 AUD and is a great place for those with dietary preferences and needs to go for a sit down hearty meal in the heart of Yalara township. 
High End 
As mentioned above, Tali Wiru is an absolute must when it comes to fine dining in Uluru. Offering a bush tucker inspired menu, with a backdrop of Uluru, it's not going to disappoint!