40 Inspiring Quotes About Italy: Your Next Foodie Destination
7 min read
Are you looking for a travel and foodie destination that will inspire your sense of wanderlust and appetite? Look no further than Italy. This beautiful country is home to stunning scenery, delicious food, and fascinating history. To help get you excited about planning your trip, here are 40 quotes about Italy that will make you want to pack your bags and go!
What is so special about Italy?
There is no denying our love for Italy. From the food, wine, history, and breathtaking scenery, it is no wonder this country ranks highly among many travelers, including ours. The reasons to visit Italy are endless.
Italy is one of those magical places where there is always something new to discover, no matter how many times you visit. Whether it's your first time or your 50th, these Italy quotes from famous authors, chefs, and more will help you see what makes this beautiful country special.
We want to share that love and passion for Italy with you. As we prepare for our upcoming trip to Italy, we've compiled a list of 40 quotes about Italy. We are
Some are centered around food, as Italy is known for its mouthwatering cuisine, and this is a tasty itinerary. Others are more general quotes about Italy that capture the essence of this wonderful country. And lastly, we have quotes about popular Italian cities that are not to be missed when visiting Italy.
Disclosure: This post may contain affiliate links. If you decide to make a purchase from one of those links, we may get a commission at no extra cost to you. We appreciate your support.
Quotes About Italy and Food
These quotes are about how wonderful Italy is. Visitors rave about how much they love visiting Italy due to its rich culture as well as delicious cuisine. And these Italy quotes are only a small sampling of what people have said about this beautiful country.
Fun Fact: Did you know that Italy receives over 40 million visitors per year?
1. "My idea of heaven still is to drive the gravel farm roads of Umbria and Tuscany, very pleasantly lost." – Frances Mayes
2. "Everything you see I owe to pasta." – Sophia Loren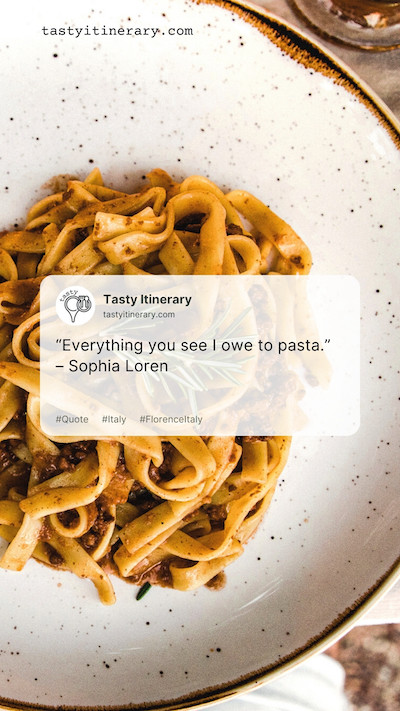 3. "Italy is a dream that keeps returning for the rest of your life." – Anna Akhmatova
4. "I love places that have an incredible history. I love the Italian way of life. I love the food. I love the people. I love the attitudes of Italians." – Elton John
5. "In Italy, they add work and life on to food and wine." – Robin Leach
6. "One of the great joys of traveling through Italy is discovering firsthand that it is, indeed, a dream destination." – Debra Levinson
7. "I'm definitely looking forward to the day when I stop working – if I ever stop working. I like the idea of keeling over in my tomato veins in Sardinia or Northern Italy." – Anthony Bourdain
10 Memorable Experiences in Italy
Italy is a country that wins your heart on the first visit. So if you're looking for some inspiration for your next or first Italian adventure, here are 10 memorable experiences in Italy that should make your bucket list. You'll find many amazing and unique Italy experiences you will remember forever.
8. "Through these old streets I wander dreamily; Around me, Florence sweeps her busy tide of life." — William Leighton
9. "Italy, and the spring and first love all together should suffice to make the gloomiest person happy." — Bertrand Russell
10. "In Italy, food is an expression of love. It is how you show those around you that you care for them. Having a love for food means you also have a love for those you are preparing it for and for yourself." — Joe Bastianich
11. "So the Italian gelato. Take the deliciousness of a regular ice-cream cone, times it by a million, then sprinkle it with crushed-up unicorn horns." — Jenna Evans Welch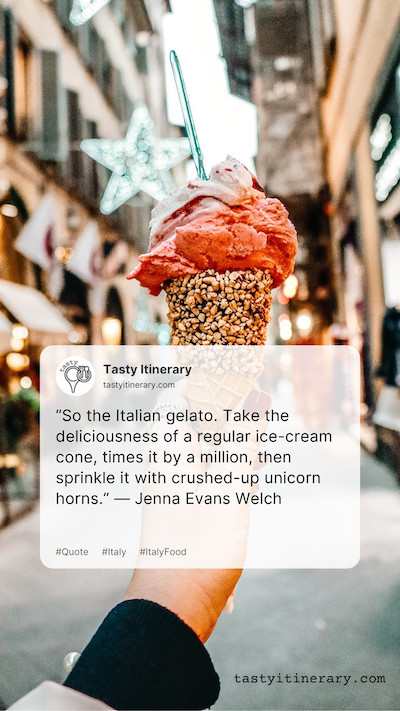 12. "If I spoke Italian, I'd be in Italy in a minute. I love the food, I love the way people live there. I mean, it really is my idea of paradise." – Bonnie Bedelia
13. "I once went to Alba, Italy, during their white truffle festival, and I was like, 'Just leave me here!" – Amber Valletta
14. "Tuscany is so full of history and beauty – you meet wonders of art and architecture on almost every corner. But I love the region's homier aspects: the special sweetness of the tomatoes, the soft mozzarella, the heady scents of basil and garlic everywhere." – Trudie Styler
15. "Open my heart, and you will see, engraved inside of it, 'Italy.' " – Robert Browning
16. "When the world seems to shine like you've had too much wine…" – Rebecca Serle, One Italian Summer
17. "Bologna is the best city in Italy for food and has the least number of tourists. With its medieval beauty, it has it all." – Mario Batali
18. "I think people in Italy live their lives better than we do. It's an older country, and they've learned to celebrate dinner and lunch, whereas we sort of eat as quickly as we can to get through it." – George Clooney
Tantalizing Florence Foods to Eat
What are the foods in Florence, Italy you should be eating? Add these Florence foods to your foodie bucket list. Italian cuisine is one of the most popular and loved in the world. When you visit Italy, you discover that Italian food varies from region to region and even city to city.
19. "If I'm in Rome for only 48 hours, I would consider it a sin against God to not eat cacio e pepe, the most uniquely Roman of pastas, in some crummy little joint where Romans eat. I'd much rather do that than go to the Vatican. That's Rome to me." – Anthony Bourdain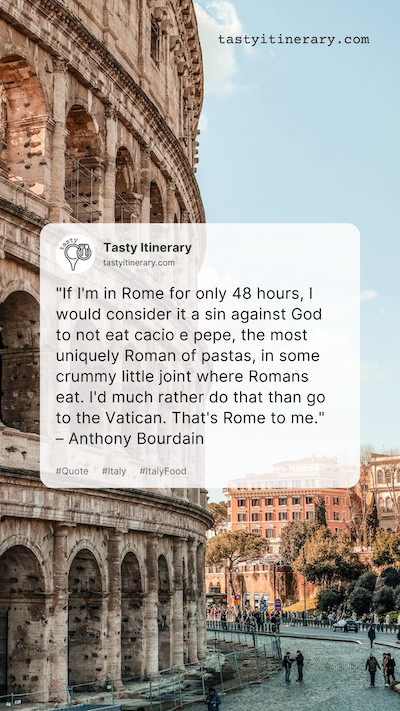 20. "At the table, one never grows old — especially when surrounded by incredible history, people, and timeless food."  – Stanley Tucci, Searching For Italy
21. "La Dolce Vita…"
22. "You know, people come to Italy for all sorts of reasons, but when they stay, it's for the same two things. Love and gelato." – Jenna Evans Welch, Love & Gelato
23. "Tonight, I watched the sunset at Ponte Vecchio. I think it's safe to say I have finally found the place that feels right to me. I just can't believe I had to come halfway across the world to find it." – Jenna Evans Welch, Love & Gelato
24. "The name of Italy has magic in its very syllables." – Mary Shelley
25. "It was Rome. The whole city is a museum." – Darnell Lamont Walker
26. "I've been to the Leaning Tower of Pisa. It's a tower, and it's leaning. You look at it, but nothing happens, so then you look for someplace to get a sandwich." – Danny DeVito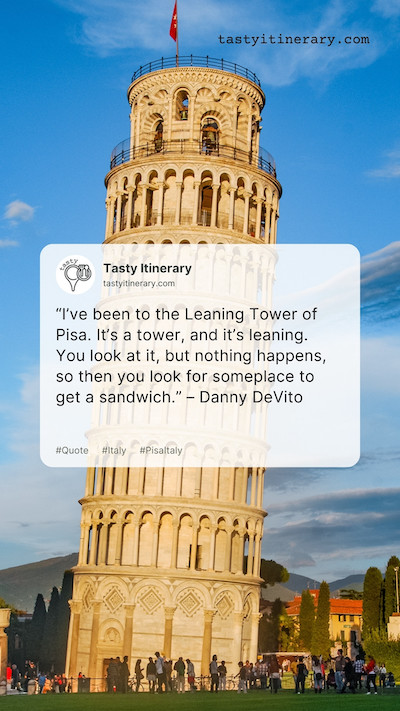 27. "Lucca, in Italy, is my favorite vacation spot." – Claudia Kim
28. "Put a compass to paper and trace a circle. Then tell me which other country has such a concentration of places like Amalfi, Naples, Ischia, Procida, Sorrento, Positano, Pompeii, and Capri." – Diego Della Valle
29. "You may have the universe if I may have Italy." – Giuseppe Verdi
30. "Italy is the last country where people savor the joy of living. It makes us believe it even when Italy herself has ceased to believe." – Roger Peyrefitte
31. "I love my pizza so much, in fact, that I have come to believe in my delirium that my pizza might actually love me, in return. I am having a relationship with this pizza, almost an affair." – Elizabeth Gilbert, Eat Pray Love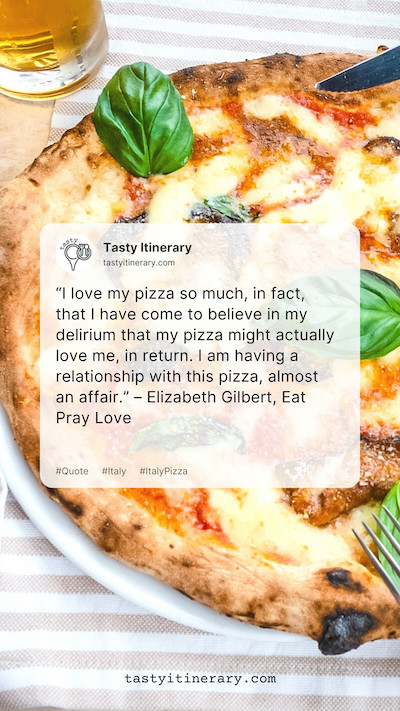 32. "Try imagining a world without Italian food. You can't, no way." – Hozier
33. "You can do irrefutably impossible things with the right amount of planning and support from intelligent and hardworking people and pizza." – Scott M. Gimple
34. "Venice is eternity itself." – Joseph Brodsky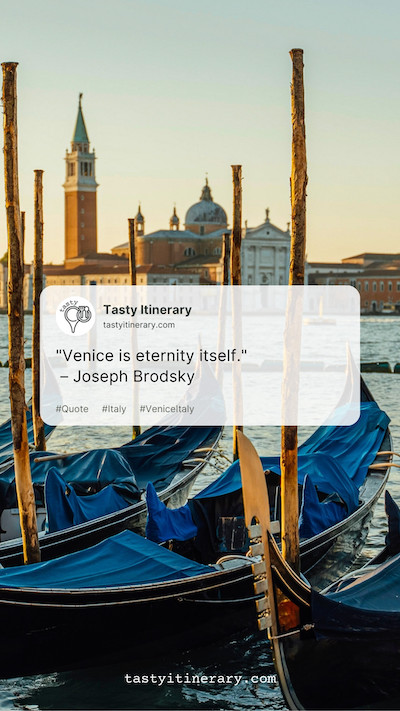 35. "Italian culture is so deeply soaked in an appreciation of the good things in life." – Mariska Hargitay
36. "There's nothing more romantic than Italian food." – Elisha Cuthbert
37. "Italy offers one the most priceless of one's possessions – One's own soul." – Barbara Grizzuti Harrison
38. The Creator made Italy by designs by Michelangelo." – Mark Twain
39. "Traveling is the ruin of all happiness! There's no looking at a building after seeing Italy." –  Frances Burney
40. "Italy will never be a normal country. Because Italy is Italy. If we were a normal country, we wouldn't have Rome. We wouldn't have Florence. We wouldn't have the marvel that is Venice." – Matteo Renzi
Influential Travel and Cruise Quotes to Inspire Your Next Vacation
No matter where you're headed, these travel quotes and cruise quotes will help get you excited about your next vacation. Whether you're dreaming of a tropical cruise ship vacation in the Caribbean Islands or an adventure exploring European travel destinations, these words of wisdom will set the tone for your perfect getaway. So sit back, relax, and let these quotes inspire your next great escape.
We hope these Italy quotes have inspired you to start planning your first or next trip to Italy.
Italy is a must-see for anyone who loves the good life. This country truly is a dream destination that will fill your soul and belly. You'll visit once, and you'll be planning your next trip or possibly future retirement there.
What are your favorite quotes about Italy? 
Don't forget to share the love on Pinterest: