Downtown news briefs – April 15
12 min read
Hotel industry professionals honored at Golden Key Awards
The San Diego County Lodging Association (SDCLA) honored eight hospitality professionals that exemplify the very best of the San Diego hospitality industry at their annual Gold Key Awards Event.  
The event was an opportunity to recognize the exceptional contributions of those who work in and support San Diego hotels and to celebrate the rebounding industry as they move towards recovery after the COVID-19 pandemic.  
"Our hotels are more than just a place for business and travel – they create thousands of jobs, contribute billions of dollars in economic activity and provide millions of dollars in hotel taxes that benefit our city in countless ways," said Mayor Todd Gloria, who delivered opening remarks at last night's event. "It's essential that we continue to support the recovery of the industry so that San Diego remains a top travel destination we can all enjoy." 
The namesake Gold Key Award was taken home by Gary Johnston, Chief Resilience Officer for the San Diego County Office of Emergency Services.  Johnston was recognized for his extraordinary support of the industry, particularly during the COVID-19 pandemic, when we was responsible for navigating the evolving public health guidance from state and local authorities and communicating those to local hotels so they could continue operations. 
Hundreds of outstanding hotel employees were nominated by colleagues throughout San Diego County and SDCLA judges selected the winners based on outstanding and unusual service to the property, to the guests, and to the community. This year's winners represent the region's diverse range of individuals, properties and locations.  
"Each winner has demonstrated sustained excellence and a passion for hospitality that inspires all of us, especially this year," said SDCLA Board Vice President, Brad Baer. "Our heartfelt congratulations and thanks to every participant who helps make the San Diego lodging experience one of the best in the world."  
The awards ceremony, which was emceed by SDCLA Board Member and President of Ocean Park Inn Hotel, Elvin Lai, was held in-person for the first time since 2019. 
"As our industry begins to recover from the devastating effects of the pandemic, we wanted to use these awards as an opportunity to celebrate the resilience and innovation of key players that truly exemplify what our industry has to offer," Lai said.  
The 42nd Annual Gold Key Award winners are: 
Pattie Roscoe – Allied Person of the Year Award: It takes a village for the hospitality and tourism industries to thrive but some of the people who make the biggest difference aren't the ones we instantly think of. This award honors someone who isn't directly employed by a lodging establishment but who makes a big difference in the industry and the lives of those around them!  
·         Winner: Brian Hilemon, San Diego Tourism Authority 
Food and Beverage Associate of the Year: What would hotels be without stellar Food & Beverage staff? High-quality food, beverages, and attitudes are essential to the success of the hospitality and tourism industry. This category honors someone who consistently goes above and beyond their day-to-day tasks and improve the lives of guests and all those around them.  
·         Winner: Magdalena Trevizo, Hilton San Diego Gaslamp Quarter 
Guest Service Associate of the Year: Guest Service associates are among the first people who can make guest experiences memorable, seamless and enjoyable. This award honors a superstar in the industry who always goes above and beyond when it comes to making guests feel special, welcomed and in help out their fellow employees. 
·         Winner: Marco Vizcarra, The US Grant Hotel 
Heart of the House Associate of the Year: Hotels are like stages: behind-the-scenes staff are crucial to putting on a successful production. Back-office employees are essential to the hospitality industry and their effort should not be overlooked. The Heart of the House award honors a non-management associate who has little or no guest contact. 
·         Winner: Maria Zuniga Torres, Pendry San Diego 
Hotel Manager of the Year: The finest managers see the big picture while also looking after all the small details that make their vision a reality. These individuals have risen through the ranks and come to exemplify all the best attributes of our industry. They are managers who reach out to guests, inspire employees and extend themselves to the broader community. This award honors a manager in a supervising position in a lodging establishment. 
·         Winner: Laura Becerra, Grande Colonial Hotel 
Sales Associate of the Year: This award honors the very best of the unsung heroes who go above and beyond to build relationships and drive revenue for our industry every single day. 
·         Winner: Edward Kutch, The US Grant hotel 
Hotel Executive of the Year: This category honors an executive who has shown excellence in leadership, service, and community affairs. The nominees were judged on outstanding performance that goes above and beyond normal job responsibilities, including providing excellent service to the property, guests, and community, as well as building strong teams and encouraging excellence at their property. 
·         Winner: Ally Marion, Omni San Diego Hotel 
Gold Key Award: First presented in 1982, the Gold Key Award is meant to honor an individual who does not work directly in hospitality or tourism but who truly embody the spirit of the industry and makes a difference every day. This individual goes above and beyond to find innovative ways to make outstanding contributions on a continuing basis to the betterment of the industry.   
·         Winner: Gary Johnston, County of San Diego 
Freedom Park plans move forward
The Port of San Diego and USS Midway Museum have reached an agreement that lays out a plan to fully convert Navy Pier into a new public park, proposed to be called "Freedom Park," on San Diego Bay's North Embarcadero.
  On April 12, 2022, the Board of Port Commissioners approved a Memorandum of Understanding (MOU) that includes the Port's commitment of $11.7 million in federal stimulus funding received via the American Rescue Plan Act and the Midway's contribution of no less than $30 million to the project. The project plans call for the demolition of the headhouse on the pier, completion of pile improvements and pier reinforcements, as well as buildout of the park with amenities reflecting San Diego's military history, pedestrian walkways around and through the park, landscaping, benches, signage, restrooms, and parking. The full cost of buildout of the park is to be determined as the park is further designed.   "Our agreement with the USS Midway Museum is a major milestone in delivering an exciting new public park – and improving public access – on the North Embarcadero," said Chairman Dan Malcolm, Port of San Diego Board of Port Commissioners. "In collaboration with the Midway as well as the California Coastal Commission, we will create a better experience for all who visit our San Diego Bay waterfront."   "We are very excited to be collaborating with the Port of San Diego on the development of 'Freedom Park' on Navy Pier that will create a beautiful public space on the downtown waterfront for San Diegans as well as visitors to America's Finest City," said Mac McLaughlin, president and CEO of the USS Midway Museum.   With approval of the MOU, Port staff will continue to collaborate with the Midway and the California Coastal Commission on the details of the design of the park on the approximately 5.7-acre pier. When the schematic design is complete, the Port will process a Coastal Development Permit (CDP) with the California Coastal Commission. The Port anticipates issuance of the CDP in early 2024. Prior to the start of construction, the headhouse will be demolished and pier structural improvements will be completed. The current timeline for park opening is early 2029.   The Port's most visible and popular public waterfront is the North Embarcadero, considered San Diego's "front porch." Converting Navy Pier to a park will add to the various public amenities and development the Port has delivered in the North Embarcadero in recent years:
Portside Pier with first-rate views of San Diego Bay from public viewing areas and four Brigantine restaurants – Brigantine Seafood & Oyster Bar, Miguel's Cocina, Ketch Grill & Taps, and Portside Coffee & Gelato.
BRIC – a lifestyle destination at Broadway and Pacific that includes the Intercontinental San Diego hotel and two Marriott hotels as well as restaurants and retail.
North Embarcadero Visionary Plan – improvements included Lane Field Park, which is dedicated to and named after the field where the original Pacific Coast League Padres played from 1936-1957; a widened public esplanade lined with lush jacaranda trees; iconic public art by internationally acclaimed artist Pae White incorporated into the pavilions, café building, entertainment and information centers, and even the public restroom building; Carnitas Snack Shack; the "Grand Hall" along West Broadway; and more.
Dole electrifies port equipment
At a ceremony today at its terminal yard at the Port of San Diego, California, Dole Food Company announced a $1.5 million dollar electrification project at its West Coast port operation. This project has funded five new electric utility tractor rigs (UTRS) to add to Dole's growing electric fleet of container transfer trucks.
These new terminal UTRs—adding to two existing electric vehicles currently in operation at the facility—are funded in part via the Clean Off-Road Equipment Voucher Incentive Project (CORE) administered by the California Air Resources Board (CARB). CORE is intended to accelerate deployment of advanced technology in the off-road sector by providing a streamlined way for fleets to access funding that helps offset the incremental costs of such technology.
Dole will retire four diesel-powered UTRs with these new battery electric units, resulting in a substantial emission reduction.
As per the research submitted in Dole's application to CORE, each new UTR will avoid 0.3194 tons NOx/year over the 10-year life for a total reduction of 3.194 tons NOx per UTR and a cumulative project emissions reduction of 12.776 tons NOx over the 10 years.
With these changes, Dole now affirms 35% of its port transfer UTRs are electric, well on its way to meet the company goal to be 100% electrified in its UTR fleet by 2030.
Dole's electrification efforts also align with the Port's Maritime Clean Air Strategy (MCAS), which helps identify future projects and initiatives to improve health through cleaner air while also supporting efficient and modern maritime operations.
Seaport Village wins important economic award
The Port of San Diego and its partners at Protea Properties and SLP Urban Planning have been recognized with the prestigious Economic Prosperity Award for the revitalization of Seaport Village. Part of the Downtown San Diego Partnership's "Create the Future Awards" program, the award is presented in recognition of efforts to advance, secure, or introduce innovative ideas to downtown San Diego's economy. The award was presented at a ceremony held March 24, 2022, at the Hilton San Diego Bayfront.
The successful repositioning and revitalization of Seaport Village is a result of the shared vision and collaboration efforts among the Port, Protea, and SLP Urban Planning.
With nearly $8 million in operational and financial investments made by the Port, which took ownership of Seaport Village in 2018, the partners have transformed the waterfront shopping, dining, and entertainment center with a strategy that artfully combines strategic site enhancements and activations, community engagement, placemaking, human-centered design, and integrated communications.
"Thanks to our revitalization efforts at Seaport Village, San Diegans are rediscovering our waterfront hub and taking notice of its forward evolution – it's always been beloved by tourists, and now it's becoming a San Diego hotspot as well. It's also attracting the attention of major regional players in the food and beverage space," said Chairman Dan Malcolm, Port of San Diego Board of Port Commissioners. "We are honored to receive the Economic Prosperity Award for this effort and proud to collaborate with Protea and SLP Urban Planning on Seaport's success."
Since the Port took over Seaport Village, the retail center has gone from 20 vacancies to four vacancies, achieved in close coordination with the Port's leasing broker, Retail Insite. Operating at 94% occupancy, Seaport Village has a variety of exciting offerings for guests and visitors, including specialty retail shops, full-service and fast-casual restaurants, and outdoor entertainment.
"We are so delighted that our collaborative and innovative approach is being recognized by the Downtown San Diego Partnership," said Stacey Pennington, President, SLP Urban Planning. "We couldn't have asked for better partners in the conceptualization and execution of a vision and strategic plan that included robust data collection and human centered design strategies resulting in immersive and experiential art installations and robust regular programming."
The team's approach to repositioning the property was extensively and closely coordinated with existing tenants and businesses. Despite recent impacts to the retail market and overall economy from the COVID-19 pandemic, Seaport Village not only retained local businesses but secured over a dozen new leases and demonstrated a more than 100% increase in engagement on social media and beyond.
"We're elated for Seaport Village's interim activations to be honored as an impactful initiative contributing to the economic prosperity of downtown San Diego's waterfront," says Jeffrey Essakow, President & CEO of Protea Property Management. "At Seaport Village, we aim to tell the story of a great public space that serves visitors and is also built around the needs and desires of a community. Thanks to our partnership with the Port of San Diego and SLP Urban Planning, these campaigns are bridging the gap between past, present, and future to show how today's iconic Seaport Village reflects San Diego's unique identity through arts, culture and engagement."
Success of the project can also be attributed to a thoughtful schedule of activations, an artist-in-residence program, a podcast studio, a monthly live music series, and improvements such as refreshed signage, common areas, landscaping, and new exterior paint. One of the most popular improvements has been the creation of an urban beach with flexible seating.
The brand positioning, interventions, site improvements, activations, educational entertainment as well as traditional entertainment and arts partnerships have all resulted in an enlivened Seaport Village which has become a vibrant and prosperous waterfront destination for all who live, work and play on and around San Diego Bay.
Properties sell in Little Italy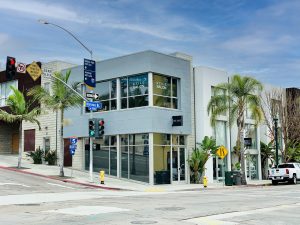 Urban Property Group is proud to announce the sale of two Little Italy properties located at 949 W Hawthorn, sold for $2.15 million, and 2491 Kettner Blvd., sold for $1.3 million, in Downtown San Diego.
949 W Hawthorn is a 2,740 square foot multi-level commercial space that has the ability be converted to a live/work loft. The property is situated on Hawthorn, adjacent to 2100 Kettner, Kilroy Realty's new mixed-use building. The buyer plans to occupy the space for their law offices. 2491 Kettner Blvd is a 1,600 square foot commercial space located on the corner of Kettner & Laurel and the buyer plans to occupy the space for their office. The highly visible property sits at the entrance to Little Italy and allows the buyer to take advantage of the tremendous signage opportunity.
Serena Patterson and Bill Shrader of Urban Property Group represented the sellers in both transactions and made contributions on their behalf to Helen Woodward Animal Shelter and UNICEF, supporting displaced Ukrainian children. Hans Strom of Strom Commercial represented the Buyer of 2491 Kettner and Miguel Patterson of Royal California Inc. represented the buyer of 949 W Hawthorn.
"These transactions are indications of the strong interest that owner-users have for owning their office space
Downtown, especially in Little Italy," said Patterson. "The properties were a few of the limited ow
Rooftop Cinemas Club Embarcadero expands to seven nights a week
Fans of Rooftop Cinema Club Embarcadero at the Manchester Grand Hyatt have flocked to the box office and shown that they crave even more, so San Diego's most-popular outdoor cinema is expanding its lineup to seven nights a week starting on Memorial Day.  Tickets go on sale today at 10 a.m. for screenings from May 3 through July 4.
The new lineup offers a little bit of something for everyone. All-ages family favorites on the weekends featuring films like Annie and E.T. The Extra Terrestrial, both of which will screen on their 40th anniversary weekends, along with Shrek, The Lion King and loads of others. A collection of films to celebrate one of Hollywood's heartthrobs, Tom Cruise, to coincide with this summer's highly-anticipated release of Top Gun: Maverick. And specially curated lineups to celebrate Mother's Day, Prom Season, Pride Month, Juneteenth, Fourth of July and the birthdays of the late Prince and Tupac Shakur.
Tickets can be purchased at www.rooftopcinemaclub.com/embarcadero. Screenings that begin before 4:30 p.m. are open to all ages, while those starting at 4:30 p.m. or later are strictly 18+. Standard tickets for adults 18+ for lounge Seats and single and double Adirondack chairs range from $17.50–$25.50, while Kids tickets range from $11.75– $14.75. Military (15%) and Student (10%) discounts are also available. Tickets are sold exclusively online. Walk-up sales are not available and booking fees apply.